Home Infusion Therapy Experience Led by Muataz, Dallas Pharmacy Manager
October 17, 2018
Amber Specialty Pharmacy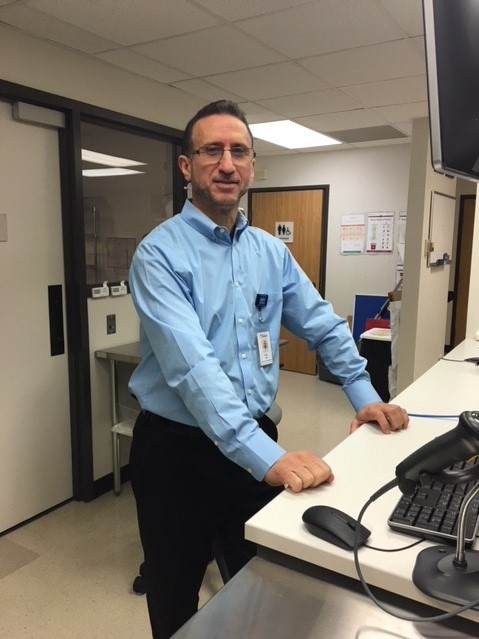 Home infusion therapy requires specialized expertise, especially from the pharmacists who manage these therapies. Successful outcomes depend on the infusion pharmacist making sound clinical decisions, coordinating with a patient's entire healthcare team and adjusting the infusion therapy to meet each patient's unique needs. Patients and healthcare providers both rely on the infusion pharmacist's judgment and proficiency in managing complex, chronic conditions treated with infusion therapy.
Muataz Noffel is the pharmacy manager at Amber Specialty Pharmacy's Dallas Farmers Branch location. In this role, he draws on years of experience to maintain strict quality standards and provide personalized patient care. The Dallas Farmers Branch location of Amber Specialty Pharmacy offers home infusion therapy in addition to specialty pharmacy services.
Individualized Care Plans for Home Infusion Therapy
Home infusion patients may have more complex conditions, which require additional clinical monitoring. Muataz and his team care for people who receive intravenous (IV) antibiotics or parenteral nutrition support. They also manage treatment for cancer, congestive heart failure and other chronic, complex conditions. In order to achieve the best possible outcomes, infusion therapy must be tailored to meet each patient's specific needs.
Providing individualized care for home infusion therapy patients gives Muataz the opportunity to get directly involved in almost all aspects of a patient's therapy. "I'm involved with dosing and mixing the medication, coordinating its timely delivery, educating the patient on proper medication administration, supplying the proper equipment and continuously monitoring the course of therapy for therapeutic response and side effects management," said Muataz.
The Pharmacist's Role in Home Infusion Therapy
Even though it requires additional effort and expertise, Muataz loves his job as an infusion therapy pharmacist because he is able to help patients. "Having a major role in improving patient health outcomes is personally gratifying," said Muataz. "It helps me develop good relationships with coworkers, prescribing physicians, nurses, caregivers and, most importantly, patients."
Fulfilling this critical role in patient care with infusion therapy requires more than the skills needed to prepare and mix the medications properly. Achieving Amber Specialty Pharmacy's standards of patient care also demands extensive clinical knowledge of how to manage, treat and monitor complex medical conditions. Infusion pharmacists must be knowledgeable about the appropriate labs required for monitoring therapy, as well as the various nursing procedures, equipment and supplies needed for providing the home infusion therapy. An infusion pharmacist is never off the clock.
"My role as an infusion pharmacist's responsibility does not end when I leave the pharmacy," said Muataz. "I have to be available around the clock as a resource to assist with any issues that may be related to a patient's therapy at home and to coordinate his or her care."
A Dedicated Healthcare Team
The hands-on role of an infusion pharmacist requires high-level expertise in home infusion care, an excellent work ethic and a dedicated team.
"Amber Specialty Pharmacy ensures our patients receive comprehensive care that goes beyond typical medication therapy," said Muataz. "I always recommend my patients take full advantage of Amber Specialty Pharmacy's programs to assist people through all the challenges that may be involved with home infusion therapy, including nutritional support and financial assistance."
Amber Specialty Pharmacy understands that delivering exceptional patient care means taking a whole-health approach and addressing all aspects of a patient's well-being. With this in mind, Amber Specialty Pharmacy offers each a patient the full support of a dedicated healthcare team. Clinical specialists are available to Amber Specialty Pharmacy patients 24 hours a day, 7 days a week.
"My favorite part of working at Amber Specialty Pharmacy is having a direct impact on our patients' lives," said Muataz. "By working closely with patients, their caregivers and their healthcare providers, my team and I help manage complex therapies and assist patients in solving any problems that may arise throughout the course of their therapy."
Coordination of Care
In addition to a patient's healthcare team at Amber Specialty Pharmacy, there are many other people involved with the home infusion therapy process. From specialized doctors and primary care physicians to home health nurses and caregivers, it can be challenging to get everyone on the same page. As the clinical pharmacist, Muataz often takes the lead in coordinating all aspects of a patient's care.
"My long and well-rounded experience has equipped me with solid understanding of what is needed for comprehensive patient care and the continuity of care that's essential after patients leave the hospital," said Muataz. "My experience has served me well at Amber Specialty Pharmacy. I am able to work closely with other members of a patient's healthcare team and provide coordinated, personalized care for infusion therapy patients."
Home Infusion Therapy Expertise
After completing his education, Muataz spent 17 years as a clinical pharmacist in a hospital setting where he cared for patients who required a high level of attention and vigilance. The major areas of Muataz's clinical pharmacy experience include working with ICU, oncology and surgical patients. Muataz applies the same vigilance and attention to detail when working with his infusion therapy patients at Amber Specialty Pharmacy.
Muataz has an extensive clinical background and lots of experience in treating and monitoring infusion therapy. Through his years of training and working directly with infusion patients, Muataz has become an expert in managing chronic, complex conditions. To elevate his clinical expertise, Muataz earned his Board Certification of Pharmacotherapy Specialty (BCPS) credential. Home infusion therapy requires pharmacists to have specialized training and extensive knowledge. For Muataz the National Home Infusion Association (NHIA) is an important resource.
"As a member of the National Home Infusion Association (NHIA), I have the opportunity to stay connected with other infusion providers," said Muataz. "Through NHIA, I also gain access to information on the latest developments in infusion therapy and continuing education programs." NHIA offers reputable continuing education resources, which are required for Muataz to maintain his Board Certification in Pharmacotherapy Specialty.
Standards of Excellence
As the pharmacy manager at one of Amber Specialty Pharmacy's Dallas, Texas locations, Muataz is responsible for upholding strict operating standards and complying with all licensing and accreditation requirements. Amber Specialty Pharmacy maintains company-wide standards of excellence, earning national accreditation from the Utilization Review Accreditation Commission (URAC) and the Accreditation Commission for Health Care (ACHC). These accreditation boards evaluate our practices and demonstrate Amber Specialty Pharmacy's commitment to excellence.
Patient-Focused Care
Patient care is truly woven into Amber Specialty Pharmacy's core values. Muataz, his team in Dallas and everyone at Amber Specialty Pharmacy is dedicated to serving patients and takes the time to connect with the people we care for every day.
"Amber Specialty Pharmacy has an impressive commitment to caring for our patients," said Muataz. "Our patient-centered model of care and our specialized Centers of Excellence differentiate us from other pharmacies."
Amber Specialty Pharmacy in Dallas, Texas
Amber Specialty Pharmacy is proud to serve patients in Dallas, Texas and across the United States. In every location, our pharmacists uphold Amber Specialty Pharmacy core values of knowledge, compassion, integrity and respect. These values directly translate to exceptional patient care. Connect with Muataz and his team in Dallas-Farmers Branch or learn more about Amber Specialty Pharmacy infusion services by calling or visiting online.
Share Article